---
This picture is of an Iraqi girl whose parents and brother were mistakenly killed by American soldiers at a checkpoint.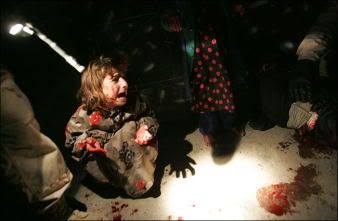 The bullets ripped through their vehicle, shattering windows, bones, and this girl's life.
"It was dark. Perhaps her father did not see the uniforms, and only saw the guns. Perhaps she and her brothers and sisters were playing too loudly in the back seat, and why couldn't they be quiet (don't make me come back there, I told you before) and he couldn't hear the shouting outside the car, and then it was loud. . .And now it is quiet."
Are we really bringing the hope and freedom that our leaders promoted? All I see is terror and pain.
I can't get this picure out of my head. The anguish, the despair. . . there just aren't words.
Imagine for a moment that this was your family. That this type of incident was happening almost daily. That you personally knew widows, orphans, and amputees whose lives were crushed in a hail of US gunfire. That 101,000 of your fellow citizens had died as a result of this war over the past year and a half. (That's over 33 world trade centers).
Now can you understand why many of them grieve and rage and take up arms against us? It's not because they "hate freedom". It's because war has real consequences.
This war isn't about a CNN bulletin or a three-line obit for an American soldier. It's about the United States soldiers that have lost their lives to this occupation. It's about people like this girl. It's about their families.
It's about the look on her face that will haunt my dreams for days.


"Nobody knows what winning a war looks like, because it has never happened."